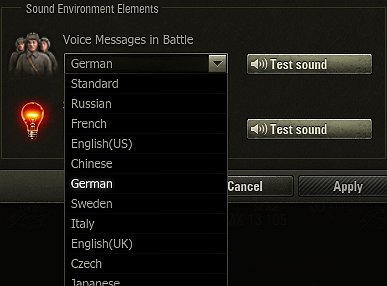 English: With this, you can select the national voice you want, such: English (US & UK), German, Russian, Polish, Italian, Chinese, Japanese, Swedish, French and Czech.
Note: May replace the voice of "special" (such Buffon & Sabaton) or female crew.
Español: Con este mod puedes seleccionar entre las voces nacionales del juego, tales como: Inglés (US y UK), Alemán, Ruso, Polaco, Italiano, Chino, Japonés, Sueco, Francés y Checo.
Nota: Puede reemplazar las voces de tripulación "especiales" (tales como las del Buffon y de la banda Sabaton) o femenina.
Installation
English: Unzip, then Copy or Move "gui" folder to: YourGameDirectory/res_mods/ActualGameVersion
Español: Descomprime, luego Copia o Mueve la carpeta "gui" a: TuDirectiorioDelJuego/resmods/VersiónActualDelJuego
Credits:
AryanneTheGermanPony