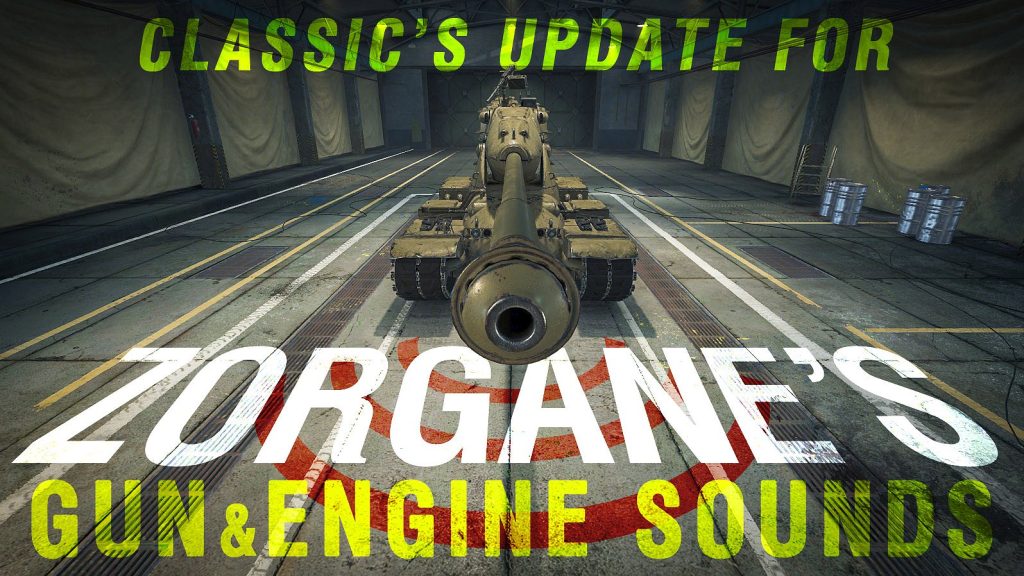 After quite a bit of time and research, many new sounds have (finally) been added to the mod!
This is my update to the HRMOD Engine/Gun Sounds mod (revival of Gnomefather's original sound mod), which adds a wide variety of new engine & gun sounds (some ported forward from Gnome's mod, some ALL-NEW!), support for new vehicles introduced into the game since Zorgane's version was last updated (cca. November 2020), and an extensive set of additional tweaks/fixes.
UPDATE: For the first time since I started updating the sound mod, new engine and gun sounds have been added to the mod!
With the help of Shimada_Sama (who has also graciously provided some of the new gun sounds for this update), Zorgane, and documentation on the WoT/KoreanRandom forums/wwise's website, some new gun sounds have finally come to the mod!
Furthermore, new engine sets have been introduced — some ported from Gnomefather's original mod, as well as a number of BRAND-NEW sounds, sourced from real vehicles wherever possible!
This update includes OVER 60 new engine sounds (more-than-TRIPLING the original roster!) and roughly 20 new gun sounds, along with a huge number of improvements/fixes! Enjoy!
Mod info
Volume is controlled separately for guns and engines from within the game's sound settings menu
Other options:
If you would like to disable custom engine sounds, go into mods\configs\PYmods\SoundEventInjector\configs\ and delete the "Gnome_Zorg_engines_principes.json" and Gnome_Zorg_engines_exceptions.json" files.
Likewise, if you would like to disable any of the optional meme engine sounds, delete the corresponding "Gnome_Zorg_OPTIONAL_" file from the above folder (for example, "Gnome_Zorg_OPTIONAL_ELC_engines.json" for the ELC rally car sounds).
IMPORTANT: Not all vehicles have custom engine sounds!
Not all vehicles include a custom engine sound at this time. Some vehicles still utilize the stock game sounds, and some other vehicles feature custom sounds in the player view ONLY (not when spectating/etc). More sounds will be added in the future, so keep an eye (and ear) out for updates!
IMPORTANT: In case the mod does not function after an update
Assuming the mod has been installed correctly, you will be prompted to restart your game on the first startup with the mod enabled. This causes the following files to generate automatically:
C:\Games\World_of_Tanks\res_mods\\engine_config.xml
C:\Games\World_of_Tanks\res_mods\\audioww\audio_mods.xml
If you experience issues with sounds after installing a new update, deleting these two files and starting up the game again + following the popup instructions (click shutdown/restart) will cause these two files to refresh, which should fix most of these issues.
Installation
To install, open the downloaded .ZIP file, then extract the included "mods" folder to your WoT install directory (for example: C:\Games\World_of_Tanks\).
Once this is done, start your game and follow the popup instructions (click shutdown/restart).
Please carefully follow the install instructions above to ensure proper functionality of the mod. The following folders (+ their included contents) MUST be present for the mod to function, so if you are having trouble with the mod, please ensure these folders are present after completing the install process:
C:\Games\World_of_Tanks\mods\\zorg_sounds
C:\Games\World_of_Tanks\mods\configs\PYmods\BanksLoader
C:\Games\World_of_Tanks\mods\configs\PYmods\SoundEventInjector
If any of the above folder(s) are missing, please make sure to follow the mod install instructions properly. If the modded sounds still do not work even with all of the above folders present, check to make sure no other mods are conflicting with this one.
Credits:
FastestClassic