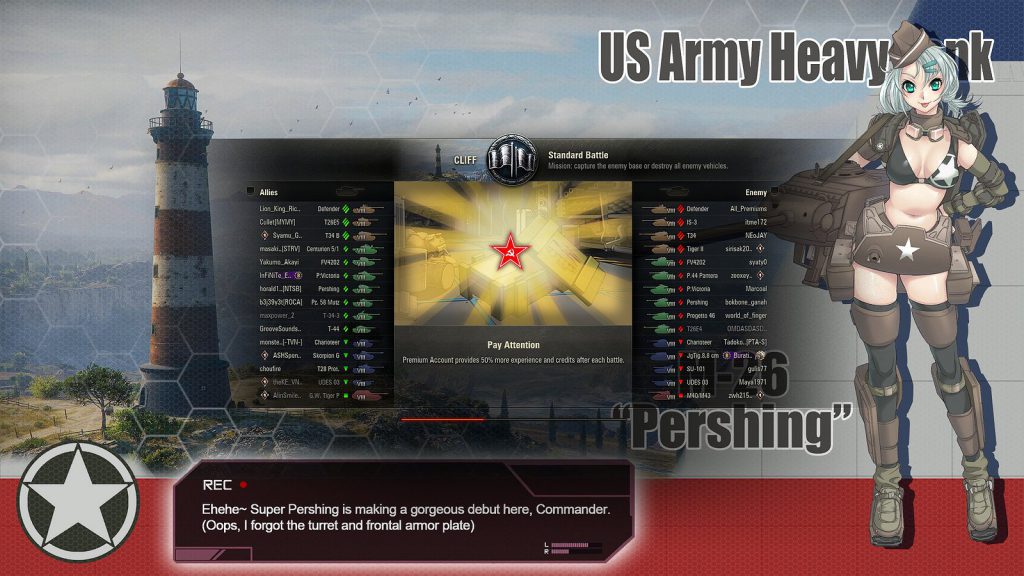 After a long time playing the game, one day, you may suddenly feel that its charming elements like music, visual, … seem not attractive anymore. So why not refreshing it for more zeal every time you dash into battles?
First introduced since update 8.10, when the Japanese tanks made their first appearance in the game, Anime-Style Mod Collection (ASMC) has been through a long journey. Changing your login screens, crew, voice, … and even the music into that of anime-related, we hope that our mod will not only satisfied anime lovers but also veterans that loves a change of wind to once again returning to the game with new enthusiasm.
FEATURES LIST
1. Interface
– Anime-styled login screens that carves the dark and intensed atmosphere of the battlefield.
– Detailed hangar UI mods. Whatever you do in the garage, you will find out interesting features.
– Special anime crew mod that possess unique crew for each country (some are also cute for research material, too).
– Battle loading screens with the panzer girls that are actual the personifications of ingame vehicles (artist: 그래도청춘 on m.inven.co.kr).
– Anime tips that makes you laugh or even do a tactical facepalm, and they are matched with the game's original tips.
– Splendid battle result screen shows up when you walk out from the battlefield, laugh proudly for the victory or cry regrettably when you lost.
– And if you are about to exit after a nice grinding day, please wait…
2. Music
Our mod cannot shine without it.
The music mod features selective and impressive tracks taken from notorious anime that makes you bristle because of the composer's excellence, such as Sword Art Online, Mirai Nikkin, Naruto, or even the legendary Gundam series.
– Login music as the welcome every time you start the game.
– Thrilling, epic and strong yet emotional anime vocal tracks from military and bloody thematic anime will make you love spending your time in the garage.
– Selective, unique and impressive battle intro music for every map.
– And when you are in a tight situation? Let the epic, thrilling orchestral-rock thematic battle music inspire you to your most desperate measure.
3. Sound and external mods
– Female anime crew voice, with 2 variants: one for the moe-lovers with cute voices from anime GJ-bu, and the other more serious and mature voice for the not-so-dere tankers.
– The popular and easy to install but outstanding Thundering gun sound (authors: ed76na and Polyacov_Yury).
– Simple but effective support mods like Jimbo crosshair (authors: J1mB0, Grabaah and Andre_V), save password (author: Chirimen) …
Fortunately, those are not the last of our mods!
Dive in to find out more on your own!
Installation
We strongly recommends that you should remove all previous mods in your game folder.
The 1st time installation will take time. From the 2nd one, only 8 mouse clicks is required.
Extract the downloaded archive using WinRAR (recommended v5.21 or above).
There are 2 files within the archive: the installer and its instruction. Please read the Instruction file first, using MS Word. It should take you only 1 minute.
Open the installer.
Click next until you see the installation path. Browse to the folder where your World of Tanks is installed.
Select your mods and options follow notes in the Instruction file.
Restart the game for 1-2 times to stabliizing the mods.
For the best experience, refer to the Recommended In-game Settings in Instruction file.
If you want to install more mods later, simply run the installer again and make changes, it saves your previous selection.
To completely remove the mod, go into your Control Panel and look for Steel Maiden.
Credits:
TacticaL_Mech_Tank