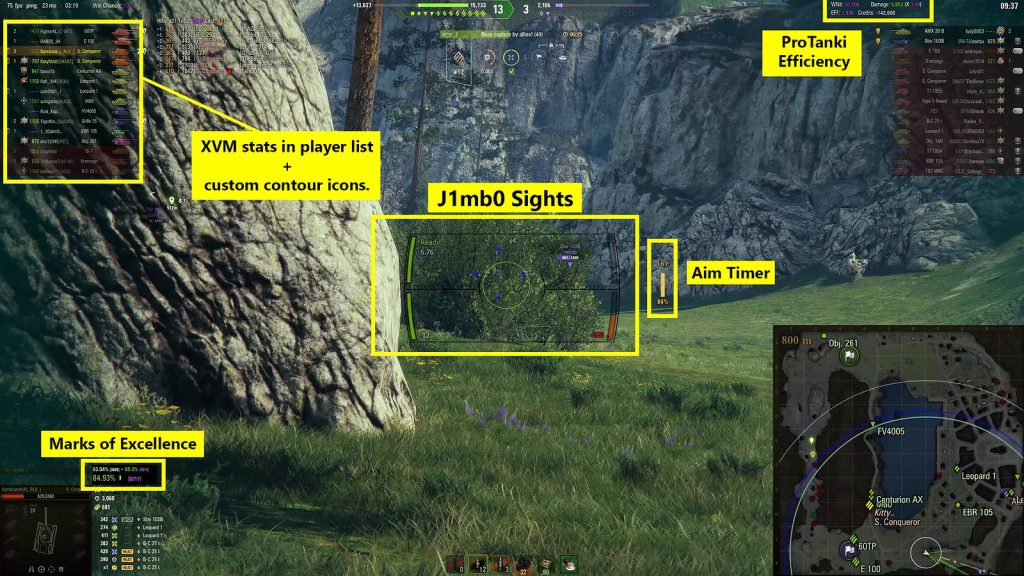 RNG is a minimalistic modpack, focused on quality and simplicity, it features minor UI customizations (almost entirely stock UI) and basic utility mods.
This pack is intentionally designed to be lightweight and fast to update after patches.
There's an installation mode for everyone:
Full: The full RNG experience (my personal mod setup).
Minimal: For those who prefer a more-vanilla experience.
Custom: The "make it yours" mode.
If you have any requests or require any support please join our Discord server!
NOTE: there's also an '!download' command in Discord that'll always provide a link to the most up to date version.
Notes:
Whilst the modpack heavily relies on XVM's features for the main customization, you do not need to use the statistics features it offers.
Simply don't activate the online services and you can enjoy all the benefits of XVM without seeing the stats of your allies or enemies.
Features:
Core:
RNG modpack version checker.
XVM Options:
General:
Disable in-battle hints (Such as the "Press N to display progress" popup at the start of battles).
Display Hit-log (appears in the top left of the screen).
Display of win chance percentage.
Display ping servers on the login and garage screens.
Disable general chat in garage.
Extra info on post-battle results.
Enable automatic return of crew.
Display friendly and enemy HP remaining on the player panels with "Alt".
Display players nicks on the mini-map with "Alt".
Carousel:
Adjustable carousel size (default and small).
Adjustable carousel rows.
Small/Condensed carousel features extra information such as Battle Tiers, Win Rate, Mastery Class (1st/2nd/3rd/Ace) and Marks of Excellence.
Custom carousel sorting criteria (tier, class, nation).
Sixth sense:
Additional sixth sense icons.
Adjustable sixth sense icon duration (default 2 and 10 seconds).
Icons:
Custom Contour Icons (RNG Modpack).
Custom Carousel Icons (RNG Modpack).
Stats (If you choose to active online services):
10 level XVM colour scale by WotLabs.net.
Optional Mods:
AwfulTanker's Server Marker.
Ekspoint's SafeShot.
goofy67's FreeCam and HangMan.
Hellinger's Minimalistic Hangar.
J1mB0's sights.
Protanki's Battle Achievements, Efficiency and Aim timer.
Poliroid's PMOD and ReplaysManager.
RaJCeL's Hidden Parameters, Unanonymizer and YasenKrasen Session Statistics (Core).
Reven86's Battle Assistant.
Spotter's Marks of Excellence Extended.
Tornado's Battle Hits.

Installation:
1). Run the installer.
2). Select your World of Tanks directory.
3). Select your installation mode (or choose the mods/options you want from the list).
4). Choose whether to wipe existing mods or not (Backup stats cache is for existing installs).
In order to update/change your existing mods simply download the new/relaunch the existing installer and make your changes as necessary.
The installer will remember the options you have selected each time, so updating without wanting to make any changes is as simple as clicking next all the way to the end.
In order to uninstall the modpack, simply run the included "Uninstall RNG Modpack" option from the start menu or use the Add or Remove programs feature in Windows.
Credits:
KamikazeXeX