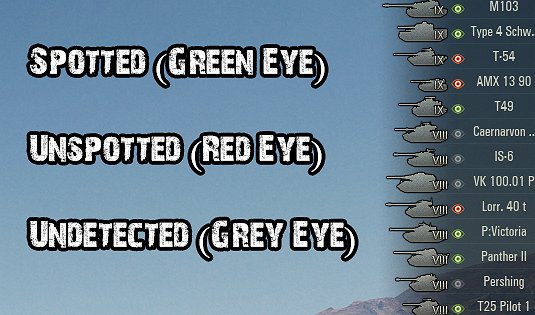 OLDSKOOL'S ENEMY SPOTTED STATUS MOD
… IS AN EXTENSION TO SEE THE ENEMYS SPOTTED STATUS.
FEATURES:
• Shows 'Spotted', 'Unspotted' and 'NeverSpotted' Enemy Status.
• Easy Display in Users Players Panel.
• Easy Configuration through the ProMod Configurator.
• Supporting two different Styles. (Dot and Eye Symbols)
• Colorblind Support: Play with Colorblind Settings? The Mod will do the same.
• Contour Icon Support: If this option is enabled the mod will adjust itself to it.
You want to support my work?
https://www.oldskool.vip/donate/
Installation
Extract the archive to your World of Tanks installation directory.
Credits:
OldSkool