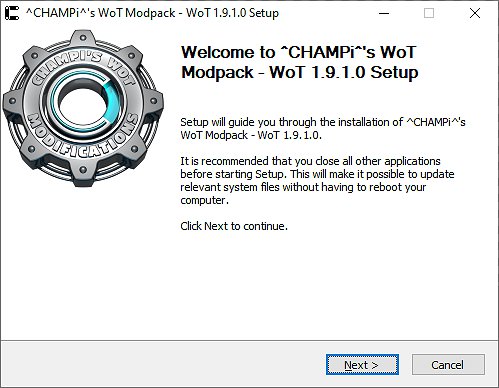 Here comes the long awaited installer for my mods. It contains *ALL* of my mods. Choose installation directory and select the mods you want to install. That's all!
The following modifications are included in the modpack: *ALL* of them are available here as standalone package and verified by WG.
Expected Vehicle Values
Shows expected vehicle damage, marks of excellence percentage, spot-/track and block damage and many more infos in real time during the battle. Highly customizable!
Little Helper Collection
The mod collects some useful improvements that never made it to their own mod. Not because they're useless, but because they're too small for an own mod. But now I've combined them all in one mod and give the player control to turn them on / off.
Minimap Spam Protector
This mod allows you to control how many times a player can ping on the minimap before the pings will be ignored from your client. You can also control if a ping sound is played.
Player Panel Pro
Customizable tank health bars, tank class icons and enemy spotted status for the playerpanel without the need of XVM!
Safe Shot Pro
A modern version of a safe shot mod.
Sixth Sense Timer
This mod allows you to display a timer in the HUD which counts down to 0 after you was spotted by an enemy. The countdown time is adjustable in a settings dialog. The countdown should remember you that you're still visible to the enemy and stay in cover until the countdown reached 0.
Tank Rating Colors
This mod allows you to take control of the tank paintings based on the WGR (WarGamingRate) or on WN8 winrate. You can define which tank parts are recolored and if camouflages should be removed or left be untouched.
Note:
The installer removes automatically old versions of my mods from the mod folder, if found!
The installer overwrites your old config files! This is needed to be sure that all setting variables are inside the config.
The installer comes with an uninstaller that is saved in the selected directory
Installation
Start the installer.
Select the installer language (currently only english, polish and german are supported, other will follow)
Click through the dialog and choose your World of Tanks root folder. (not the mods folder!)