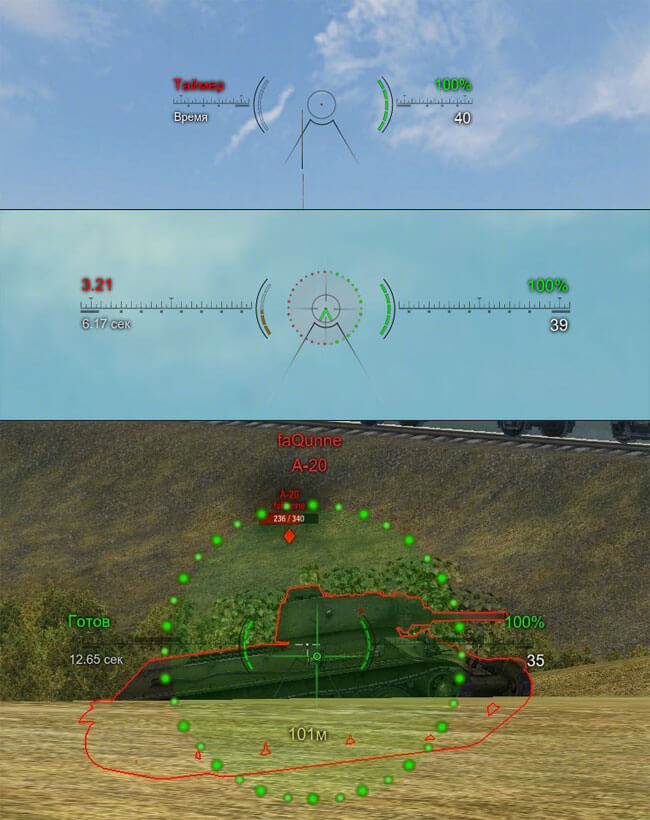 Can anyone of you already familiar with the sight Taipan for WOT, it is quite popular among the soldiers. And now we offer to download a new version of the sight – sight TAIPAN 2 with an indicator for the penetration WOT. As his sight was very comfortable, the author listened to the comments of the players and did arcade and sniper scopes simpler and more minimalist.
It is what it looks like Jimbo sight, but it looks much more pleasant because of the use of fine lines in its design. Sight has all the necessary sensors, as well as cool details with a nice indicator of penetration and reload animation.
Indicator penetration of armor was moved to the center marker on the line, which converge to it. Because of this it has become more visible and well-suited for those who need a bright and visible indication of penetration. For convenience, the art is separate from the scope of arcade and sniper, so if you need it, be sure to install it.
Installation:
Set fonts.
Copy the folder gui and scripts in World_of_Tanks/res_mods/9.20/, confirming a replacement.